---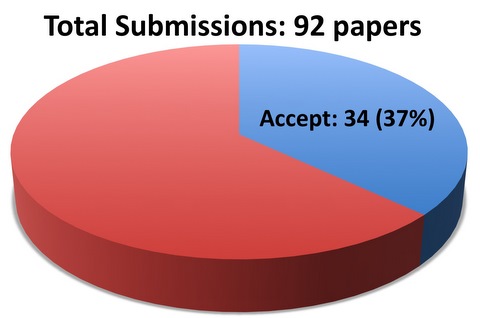 List of Accepted Papers:
1. Vinh La, Sungyoung Lee and Yong-Koo Lee

.
Emotional Speech Classification using Hidden Conditional Random Fields

2. Thanh Le Dinh, Dai Tho Nguyen and Ho Thuan

.
Hybrid Contention-Based Geographic Routing in Wireless Sensor Networks

3. Shu-Ming Tseng.
Software Digital-Down-Converter Design and Optimization for DVB-T Systems

4. Hoang Thien Van, Phat Quang Tat and Thai Hoang Le

.
Palmprint Verification using GridPCA for Gabor Features

5. Trung-Thanh Le.
Arbitrary Power Splitting Couplers Based on 4x4 Multimode Interference Structures for VLSI Photonic Integrated Circuits

6. Hieu Nguyen Minh, Quoc Phan Tan and Nghia Nguyen Duc

.
An Approach of Ant Algorithm for Solving Minimum Routing Cost Spanning Tree Problem

7. Jon Davis and Elizabeth Chang

.
AUTOMATIC APPLICATION UPDATE WITH USER CUSTOMISATION INTEGRATION AND COLLISION DETECTION FOR MODEL DRIVEN APPLICATIONS

8. Md. Rakibul Islam, K. M. Azharul Hasan and Tatsuo Tsuji

.
EaCRS: An Extendible Array Based Compression Scheme for High Dimensional Data

9. Vuong Hoang Nam, Nguyen Quoc Trung and Tran Hoai Linh

.
Blind Speech Separation Combining DOA Estimation and Assignment Problem Approaches

10. Neeraj Singh and Dominique Mery

.
Automatic Code Generation from Event-B Models

11. Vu Tran, Thinh Tran, Tuan Nguyen and Nguyen Nguyen

.
MEMORY-EFFICIENT TCP REASSEMBLY USING FPGA

12. Le Trong Vinh, Dinh Huu Nghia and Nguyen Gia Nhu

.
The mininum number of gateways for maximizing throughput in Wireless Mesh Networks

13. Do Le, Taeyoel Jeong, Roman H. Eduardo and Hong James Won-Ki

.
Traffic Dispersion Graph Based Anomaly Detection

14. Chan Rathany Sam, Thanh Huong Le, Thanh Thuy Nguyen, Anh Dung Le and Thi Minh Ngoc Nguyen

.
Semi-Supervised Learning for Relation Extraction in Vietnamese Text

15. Tien Dung Tran, Dang Khoa Nguyen, Quoc Cuong Nguyen, Huu Binh Nguyen and Thị Anh Xuân Trần

.
Speech Enhancement Using Combination of Dereverberation and Noise Reduction for Robust Speech Recognition

16. Nguyen Trong Khanh, Nicolas Marilleau, Ho Tuong Vinh and Amal El Fallah Seghrouchni

.
New protocol supporting collaborative simulation

17. Kien Nguyen and Yusheng Ji

.
Impact of contention on performance of flows in multi-hop MAC protocol for sensor networks

18. Khiem Doan, Toan Do and Thai Le

.
A Scene Clustering Method Based on Boosting

19. Tuyen Dinh, Tien Dinh and Jacques A. Ferland

.
A meta-heuristic approach for Cell Formation Problem

20. Tuan-Anh N. Pham and Van K. Nguyen

.
A Simhash-Based Scheme For Locating Product Information From the Web

21. Quoc Trung Bui, Quang Dung Pham and Yves Deville

.
Constraint-Based Local Search for Fields Partitioning Problem

22. Minh H. Nguyen and Son H. Ngo

.
Dynamic connection provisioning with signal quality guaranteed in all-optical networks

23. Trung Nguyen Minh, Tam Nguyen Duc and Phuong Nguyen Hong

.
Using main content extraction to improve performance of Vietnamese web page classification

24. Anh-Tu Le, Do-Dat Tran and Thu-Trang Thi Nguyen

.
A model of F0 contour for Vietnamese questions, applied in speech synthesis

25. Thi Thanh Mai Nguyen, Ngoc Hai Pham, Van Thai Dong, Viet Son Nguyen and Thi Thanh Hai Tran

.
A fully automatic hand gesture recognition system for human - robot interaction

26. Phan Thuan Do, Thai Duong Nguyen and Quang Dung Pham

.
An efficient exact algorithm for finding two link-disjoint paths with related path cost and QoS constraint

27. Phi Le Nguyen, Trung Hieu Nguyen, Tien Quan Bui and Khanh Van Nguyen

.
Efficient Approximation of Routing Holes in Wireless Sensor Networks

28. Long Pham, Anh Nguyen, Vi Nguyen, Quoc Le and Thang Huynh

.
A meaningful model for computing users' importance scores in Q&A systems

29. Thảo Đỗ Văn, Đỗ Đạt Trần and Thu Trang Nguyễn Thị

.
Non-uniform unit selection in Vietnamese Speech Synthesis

30. Viet Xuan Truong, Hiep Xuan Huynh, Minh Ngoc Le and Alexis Drogoul

.
Modeling the Brown Plant Hoppers surveillance network using Agent-Based Model - Application for the Mekong Delta Region

31. Guillaume Bonfante.
Course of value distinguishes the intentionality of programming languages

32. Trung-Thanh Le.
All-optical Symmetric Cosine and Sine Transforms Using Multimode Interference Structures

33. Tatsuya Iwasaki and Keiichi Kaneko

.
A Routing Algorithm of Pairwise Disjoint Paths in a Burnt Pancake Graph

34. Hai Tung Ta.
A Novel Method for Estimating Residual Carrier Frequency Offset in GPS L2C Receivers