---
contact us
for a formal invitation letter.
---
Here is the list of the hotels that offer special prices to the participants of SoICT 2011. All the hotels are located in the "Old Quarter" of Hanoi's downtown. If you are interested in any hotel in the list, please send your request for reservation to the conference secretariat at least two weeks before the conference's dates.
Some remarks:
The reservation email should include: name of participant, hotel, type of room, check-in date, number of nights, number of people and special requests (if any).
On conference days, the participants of SoICT 2011 altogether will be offered one round trip between Arriva MS Salute Hotel and the Conference Venue by a shuttle bus.
In the list, "Distance" means the distance from a hotel to the Conference Venue




Hotel: Ariva MS Salute

Address: No. 54-56 Hang Duong str

Rate: 50 USD/Single or Double Deluxe/night

Note:
On conference days, the conference's shuttle bus will transport participants between this hotel to the Conference Venue (one round trip per day for all participants together).
-----------------------------------------------------------------------------
Hotel: Sunway Hotel

Address: 19 Pham Dinh Ho str

Rate: 85USD/single/double Superior/night
-----------------------------------------------------------------------------
Hotel: Prestige Hotel

Address: 17 Pham Dinh Ho str

Rate: 85USD/single/double Superior/night
-----------------------------------------------------------------------------
Hotel: HoaBinh Palace Hotel

Rate: 50USD/Single Superior/night & 55USD/Double Superior/night

-----------------------------------------------------------------------------
Hotel: GiaBao Grand Hotel

Rate: 50USD/Single Superior/night & 55USD/Double Superior/night

-----------------------------------------------------------------------------
Hotel:Thang Long Opera Hotel

Rate: 55USD/Single/Double Innova Superior/night

---
Tours to Ha Long Bay - World Heritage Site
The following are two options for visiting Ha Long bay, one of the most spectacular World Heritage, with special offers to SoICT 2011's participants. If you are interested in any tour, please contact the conference secretariat for booking. The email should include: name of participant, chosen tour (1 or 2), expected date, number of people, special requests.
Introduction to Ha Long Bay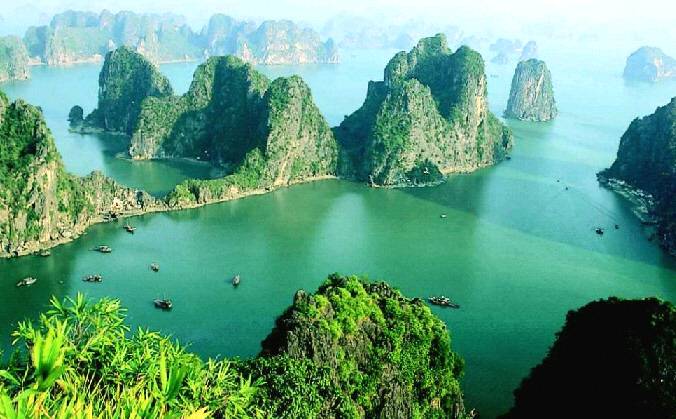 Ha Long Bay is located in the northeast corner of Viet Nam, 165 km from Ha Noi. Ha Long Bay covers an area of 1,553 km2 with 1,969 islands, of which 90% are limestone islands. The islands in Hạ Long Bay are mainly limestone and schist islands most lying in the two main areas: the southeastern part of Bái Tử Long Bay and southwestern part of Hạ Long Bay. These islands represent the most ancient images of a geographical site having a tectonic age of from 250 million to 280 million years. They are the result of many times of rising and lowering processes of the continent to form a karst. The process of nearly full erosion and weathering of the karst created the unique Hạ Long Bay in the world. In a not very large area, thousands of islands with different forms look like glittering emeralds attached to the blue scarf of a virgin.
Historical research surveys have shown the presence of prehistorical human beings in this area tens of thousands years ago. The successive ancient cultures are the Soi Nhụ culture around 18,000-7000 BC, the Cái Bèo culture 7000-5000 BC and the Hạ Long culture 5,000-3,500 years ago. Hạ Long Bay also marked important events in the history of Vietnam with many artifacts found in Bài Thơ Mout, Đầu Gỗ Cave, Bãi Cháy.
Hạ Long Bay was first listed as a UNESCO World Heritage Site in 1994, in recognition of its outstanding, universal aesthetic value. In 2000 the World Heritage Committee additionally recognized Hạ Long Bay for its outstanding geological and geomorphological value, and its World Heritage Listing was updated.
In 2009, the New 7 Wonders Foundation, which runs the New Seven Wonders of the World program, included Halong Bay on its list of nominations as one the World's 7 Natural Wonders.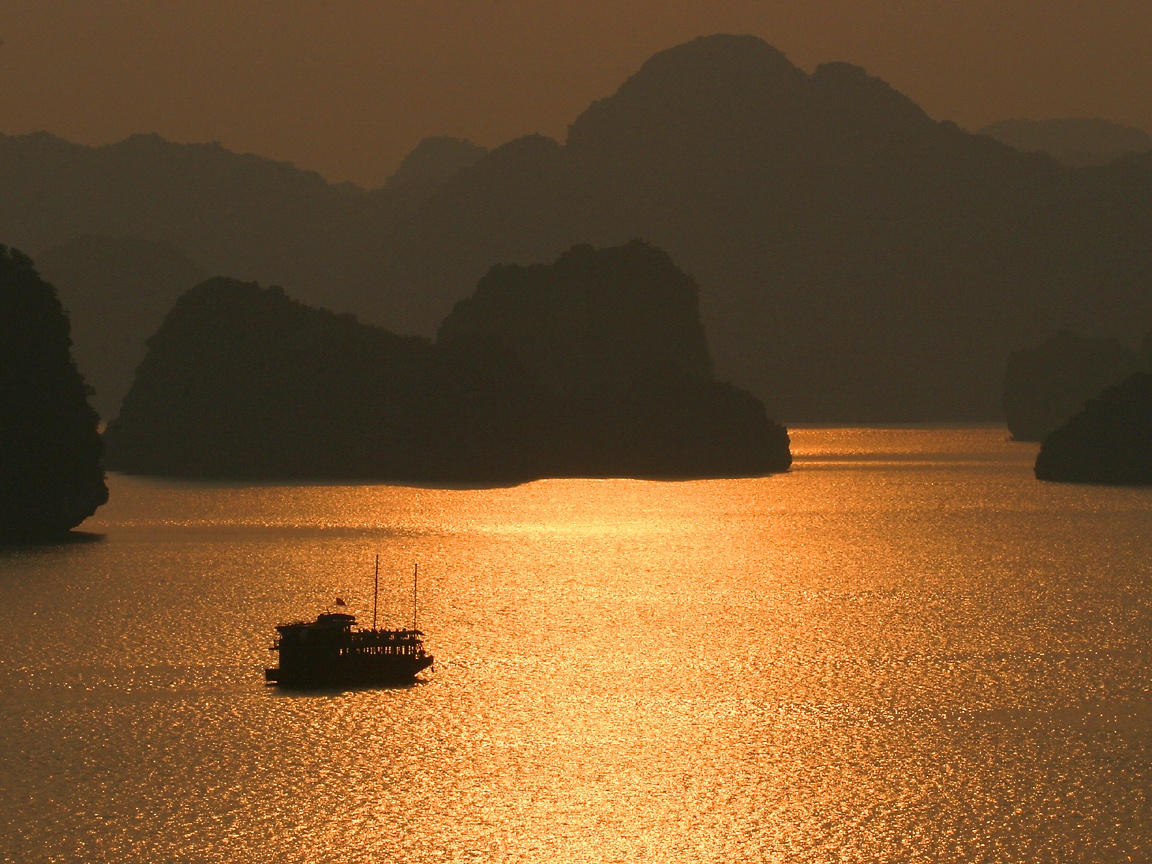 TOUR 1: Huong Hai Junks Itinerary / 2 days 1 night
Day 1: Hanoi - Halong (L, D)

8.00am - 8.45am: Huong Hai shuttle bus will pick you up at your hotel (hotel located in Old Quarter Street area unless pick up client in the front of Hanoi Opera), on the way to Halong city you will enjoy the journey through the rich farmlands of the Red River Delta and the scenery of rice fields (harvest time: 5th month and 10th month of Lunar New Year), water buffalo and everyday Vietnamese village life.

12.15pm: Arrive in Halong, board Huong Hai Junks. Lunch is served with a welcome drink while the boat cruises the bay to enjoy the beautiful limestone seascape.

1.30pm: A fantastic cruise in Halong Bay, visit Dinh Huong island, Ga Choi - Fighting Cock island, Dog island, Sail island, visit Sung Sot - Amazing Cave, and a swim at Soi Sim beach or TiTov beach.

7.30pm: Enjoy dinner on board

9.00pm: Fishing or relax and spending a night on board.

Day 2: Halong - Hanoi. (Breakfast and brunch)

7.00am: Sunrise breakfast with tea, coffee, milk, cake, etc.

8.00am: Visit Luon cave on small bamboo boat, then cruise to pass so that tourists can have a look Man's head island, Tortoise island from the Junks.

9.00am: Arrange luggage and check-out

9.30am: Set brunch (breakfast and lunch) before back to Halong dock and have a short break.

11.45am: Arrive Halong pier. Trip ends.
Transfer option by shuttle bus or private car: Arrive Hanoi city at around 4.00pm

NET TOUR COST PER PERSON: US$161 for single cabin (for 01 pax) & US$114 for twin sharing cabin (for 02 pax)

Tour Prices Include:

Cruise Itinerary and Program

Shuttle bus from Hanoi to Halong and vice versa

Two bottle of Lavie mineral water on Huong Hai shuttle bus from Hanoi to Halong and vice versa per pax

Entrance fees & Sightseeing fees

One welcome drink per passenger on board.

Complimentary Lavie mineral water in room

Lunch and dinner as itinerary

Morning tea, coffee and cake

Farewell brunch in the last day of itinerary

In-house English or French speaking Tour Guide (reserved in advanced and subject to availability)

Accommodation on Huong Hai Junk with A/C (base on twin sharing), private bathroom with hot water and shower

Insurance, Taxes and Service Charge

Tour Prices Exclude:

Airfares

Kayak (2 days 1 night itinerary & on the 1st day of 3 days 2 nights itinerary)

Visa Arrangements
Beverages, Tips and Personal Expenses
All other services not clearly mentioned above
Notes:

Cruise Itinerary and Program may be subject to change at anytime without prior notice.

Advanced reservation is required by providing full passenger details in prescribed standard format, including Full Name, Date of Birth, Nationality, Passport Number, Visa Expiry Date etc.

A valid passport or ID card is required upon check-in onboard.
What to bring:
Original passport or ID, swimming suites, sun glasses & sun cream, insect repellent and your personal cosmetic, special shampoo, body shower and body lotion.

----------------------------------------

TOUR 2: BHAYA CRUIS / 2 DAYS 1 NIGHT

See Halong Bay in style on board Bhaya - a newly built wooden junk featuring twenty luxurious cabins furnished in classic Eastern style. A truly memorable experience awaits you as you cruise this delightful Bay, reveling in its tranquility as you escape the bustling tourist sights. Start your day with calming Tai Chi, dine on fresh seafood on the deck, then retire to your own plush cabin - just some of the highlights of Bhaya's exceptional Halong Bay cruise.

Day 1:

08.00 Take a 3-hour scenic drive from Hanoi to Halong Bay

12.30 Enjoy a Welcome cocktail upon embarking Bhaya

13.00 Savour a delicious luncheon as your cruise begins

14.30 Spend the afternoon cruising amongst the limestone islands
Explore the Cave of Surprise (Sung Sot Cave)
Swim or kayak at Hang Doi (weather permitting)
Visit Van Gia fishing village (in summer only)
Enjoy optional onboard activities: e.g. sunbathing, traditional massage, cooking demonstrations

17.00 Swim or kayak at Ho Dong Tien anchorage (weather permitting)

19.00 Feast as a luxury dinner is served

21.00 Relax at leisure
Overnight aboard Bhaya

Day 2:

06.15 Practise Tai Chi on the Sundeck

07.00 Start your day with an International Buffet Breakfast

08.30 Continue cruising in Halong Bay

10.00 Disembark Bhaya, Transfer back to Hanoi

NET TOUR COST PER PERSON: US$350 for single cabin (for 01 pax) and US$188 for twin sharing cabin (for 02 pax)

Inclusions:

Transportation from Hanoi - Halong – Hanoi by shuttle bus

Welcome cocktail, meals onboard

Entrance and sightseeing fees

Air-conditioned en-suite cabin

Tax and service charges

Insurance onboard

Exclusions:

All airfares, hotels

Visa arrangement

Kayak and spa services

Beverages

All service non-clearly mentioned in the inclusions list