---
Here is the list of the hotels that offer special prices to the participants of SoICT 2012. All the hotels are located in the "Halong Road" of Halong City. If you are interested in any hotel in the list, please send your request for reservation to the conference secretariat at least two weeks before the conference's dates.
Some remarks:
The reservation email should include: name of participant, hotel, type of room, check-in date, number of nights, number of people and special requests (if any).
On conference days, the participants of SoICT 2012 altogether will be offered one round trip between Hotels and the Conference Venue by taxi or by foot.
In the list, "Distance" means the distance from a hotel to the Conference Venue




Hotel: Conference vanue: Halong Plaza

Address: No 08, Halong Street, Halong City, Vietnam

Distance: *Conference Vanue
*To the beach: 1,5 km
* To the main pier for Ha Long Bay cruises: 3km.

Rate: Superior:70 USD/room/n
Deluxe: 95USD/room/n
Junior Suite: 145USD/room/n

-----------------------------------------------------------------------------
Hotel: Heritage Halong

Address: 88 Halong Road, Bai chay ward, Halong city VN.

Distance: * Conference Vanue: 1km
* To the beach: 50m
* To the main pier for Ha Long Bay cruises: 1km.

Rate: Superior: 110 USD
Deluxe: 140 USD
Suite: 230 USD

-----------------------------------------------------------------------------
Hotel: Novotel Halong Hotel

Address: Ha Long Road, Bai Chay Ward, Ha Long City, Quang Ninh Province, Vietnam

Distance: * to the Conference Venue: 50 m
* to the beach: 200 m
* to the o the main pier for Ha Long Bay cruises: 03 km

Rate: Standard: 109 USD/room/n
Sup-Bay view: 123 USD/room/n
Executive: 146 USD/room/n
-----------------------------------------------------------------------------
Hotel: Van Hai Hotel

Address: No: 08, Halong Street, Halong City, Vietnam

Distance: * to the Conference Venue: 50 m
* to the beach: 1,5km ( center Beach )
* to To the main pier for Ha Long Bay cruises: 3 km

Rate:Superior: 35USD /room/night
Deluxe: 55 USD/room/night
Suite: 65 USD/room/night
-----------------------------------------------------------------------------
Hotel: Bach Dang Hotel

Address: No 02, Halong Road, Halong city, VN

Distance: *To the conference venue: 10 m.
* to the Beach : 1,5 km
* to To the main pier for Ha Long Bay cruises: 4 km.

Rate:Single or Double: 36USD /room/night
Triple: 47 USD/room/night
Family: 52 USD/room/night
-----------------------------------------------------------------------------
Hotel:Dream Halong Hotel

Address: No 10 Halong Road, Halong city, Vietnam

Distance: *To the conference venue: 1 km
*To the beach: 200 m
*To the main pier for Ha Long Bay cruises: 3km

Rate:Superior: 66USD/room/night
Deluxe: 119USD/room/night
-----------------------------------------------------------------------------
Hotel:Buu Dien Hotel

Address: Halong Road, Bai Chay, Halong city, Vietnam

Distance: *To the conference venue: 500m
*To the beach: 10 m

Rate:Superior Hill view: 30 USD/room/night
Deluxe sea view: 38USD/room/night
---
Tours to Ha Long Bay - World Heritage Site
Introduction to Ha Long Bay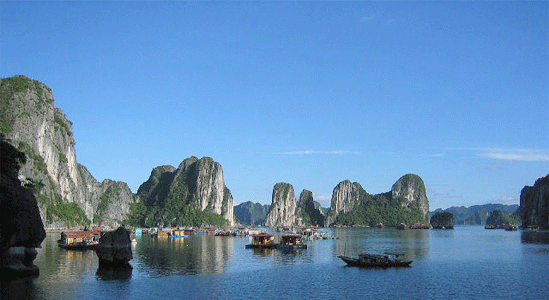 The legend of Hạ Long has it that, "Once upon a time, soon after the Việt people established their country, invaders came. The Jade Emperor sent Mother Dragon and her Child Dragons down to earth to help the Việt people fight against their enemy. Right at the time invaders' boats were rushing to the shore, the dragons landed down on earth. The dragons immediately sent out from their mouths a lot of pearls, which then turned into thousands of stone islands emerging in the sea like great walls challenging the invaders' boats. The fast boats couldn't manage to stop and crashed into the islands and into each other and broke into pieces.
After the victory, Mother Dragon and Child Dragons didn't return Heaven but stayed on earth at the place where the battle had occurred. The location Mother Dragon landed is nowadays Hạ Long Bay and where Child Dragons descended is now Bái Tử Long. The dragons' tails waving the water created Long Vĩ (present Trà Cổ peninsula) and formed a fine sand beach over ten kilometers long".
Hạ Long Bay is located in the northeastern part of Vietnam and constitutes part of the western bank of Bắc Bộ Gulf, including the sea area of Hạ Long City and Cẩm Phả Town and part of Vân Ðồn island district. It abuts Cát Bà Island in the southwest.Toward the west is the shore with a 120 km-long coastline. It is located within 106o58'-107o22' east longitude and within 20o45'- 20o50' north latitude. The site is 1553 sq. km with 1969 islands of various sizes, of which 989 have been named.
The islands in Hạ Long Bay are mainly limestone and schist islands most lying in the two main areas: the southeastern part of Bái Tử Long Bay and southwestern part of Hạ Long Bay. These islands represent the most ancient images of a geographical site having a tectonic age of from 250 million to 280 million years. They are the result of many times of rising and lowering processes of the continent to form a karst. The process of nearly full erosion and weathering of the karst created the unique Hạ Long Bay in the world. In a not very large area, thousands of islands with different forms look like glittering emeralds attached to the blue scarf of a virgin. The area where many stone islands concentrate has spectacular scenes and world-famous caves and is the center of Hạ Long Bay Natural Heritage, including Ha Long Bay and a part of Bái Tu Long Bay.
The area is recognized as the World Natural Heritage that is the area of 434 sq. km with 775 islands. It looks like a giant triangle with Ðầu Gỗ Island (in the west), Ba Hầm Lake (in the south) and Cống Tây Island (in the east) as its three angle points. The nearby area is the buffer area and areas classified as national beauty spots in 1962 by the Ministry of Culture and Information.
Viewed from above, Hạ Long Bay looks like an extremely vivid huge drawing. This is a wonderful and skilful masterpiece of the Creation and of nature that turns thousands of dumb soulless stone islands into fantastic sculptural and artistic works of various graceful shapes, both familiar and strange to human beings. Thousands of islands emerging uneven in the fanciful waves look strong and magnificent but also mild and vivid. Amidst these islands we feel as if we were astray in a petrified legendary world. There are many names given to islands according to their shapes and forms. This one looks like somebody heading toward the shore: Hòn Ðầu Người (Human Head Island); that one looks like a dragon hovering above the sea surface: Hòn Rông (Dragon Island); another looks like an old man sitting fishing: Hòn Lã Vọng; some look like big sails struggling amidst the wind to set off for the sea: Hòn Cánh Buồm (Sail Island); then two islands look like a pair of chicken lovingly playing with each other above the sea: Hòn Trống Mái (Male and Female Chicken Island); and amid the vast sea stands an island like a big incense burner like a ritual offering to Heaven: Hòn Lư Hương (Incense Island)All are so real that people are taken aback by them. Those stone islands have experienced unpredictable changes over time and they take different shapes from different angles of view. Here, we come to realize that they are not dumb inanimate things but are vivid and soulful.
Inside the stone islands are various breath-taking caves, such as Thiên Cung, Ðầu Gỗ, Sửng Sốt, Trinh Nữ, Tam Cung and others. These are really magnificent palaces of the Creation on earth. Long ago, Hạ Long Bay has been called by the great national poet Nguyễn Trãi:"a wonder of the earth erected towards the high sky". Many men of letters from all over the world have been taken aback at the grandiose scenery of Hạ Long. They seem to get puzzled and incompetent as their treasure of vocabulary is not rich enough to depict the splendor of this place.
---
TOUR 1: Huong Hai Junks Itinerary 2 days 1 night
Day 1: Halong - Huong Hai Juck (D)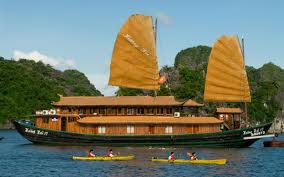 13.00 pm - 13. 30 pm: Huong Hai shuttle bus will pick you up at your hotel (hotel located Halong)

12.15pm: Arrive in Halong, board Huong Hai Junks. Guests are served with a welcome drink while the boat cruises the bay to enjoy the beautiful limestone seascape.

2.00pm: A fantastic cruise in Halong Bay, visit Dinh Huong island, Ga Choi - Fighting Cock island, Dog island, Sail island, visit Sung Sot - Amazing Cave, and a swim at Soi Sim beach or TiTov beach.

7.30pm: Enjoy dinner on board

9.00pm: Fishing or relax and spending a night on board.


Day 2: Halong - Hanoi. (Breakfast and brunch)

7.00am: Sunrise breakfast with tea, coffee, milk, cake, etc.

8.00am: Visit Luon cave on small bamboo boat, then cruise to pass so that tourists can have a look Man's head island, Tortoise island from the Junks.

9.00am: Arrange luggage and check-out

9.30am: Set brunch (breakfast and lunch) before back to Halong dock and have a short break.

11.45am: Arrive Halong pier. Trip ends.
Transfer option by shuttle bus or private car: Arrive Hanoi city at around 4.00pm

NET TOUR COST PER PERSON: US$190 for single cabin (for 01 pax) & US$134 for twin sharing cabin (for 02 pax)

Tour Prices Include:

Cruise Itinerary and Program

Shuttle bus from Hotel to Halong and vice versa

Two bottle of Lavie mineral water on Huong Hai shuttle bus from Hanoi to Halong and vice versa per pax

Entrance fees & Sightseeing fees

One welcome drink per passenger on board

Complimentary Lavie mineral water in roomm

Lunch and dinner as itinerary

Morning tea, coffee and cake

Farewell brunch in the last day of itinerary

In-house English or French speaking Tour Guide (reserved in advanced and subject to availability)

Accommodation on Huong Hai Junk with A/C (base on twin sharing), private bathroom with hot water and shower

Insurance, Taxes and Service Charge

Tour Prices Exclude:

Airfares

Kayak (2 days 1 night itinerary & on the 1st day of 3 days 2 nights itinerary)

Visa Arrangements
Beverages, Tips and Personal Expenses
All other services not clearly mentioned above
Notes:

Cruise Itinerary and Program may be subject to change at anytime without prior notice.

Advanced reservation is required by providing full passenger details in prescribed standard format, including Full Name, Date of Birth, Nationality, Passport Number, Visa Expiry Date etc.

A valid passport or ID card is required upon check-in onboard.
What to bring:
Original passport or ID, swimming suites, sun glasses & sun cream, insect repellent and your personal cosmetic, special shampoo, body shower and body lotion.

----------------------------------------

TOUR 2: BHAYA CRUISE/ 2 DAYS 1 NIGHT

See Halong Bay in style on board Bhaya - a newly built wooden junk featuring twenty luxurious cabins furnished in classic Eastern style. A truly memorable experience awaits you as you cruise this delightful Bay, reveling in its tranquility as you escape the bustling tourist sights. Start your day with calming Tai Chi, dine on fresh seafood on the deck, then retire to your own plush cabin - just some of the highlights of Bhaya's exceptional Halong Bay cruise.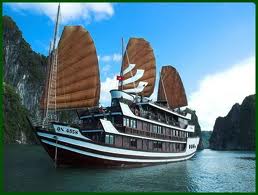 Day 1:
12.00-12.30: Bhaya Cruise bus will pick you up at your hotel (hotel located Halong)

12.30 Enjoy a Welcome cocktail upon embarking Bhaya

13.30 Spend the afternoon cruising amongst the limestone islands
Explore the Cave of Surprise (Sung Sot Cave)
Swim or kayak at Hang Doi (weather permitting)
Visit Van Gia fishing village (in summer only)
Enjoy optional onboard activities: e.g. sunbathing, traditional massage, cooking demonstrations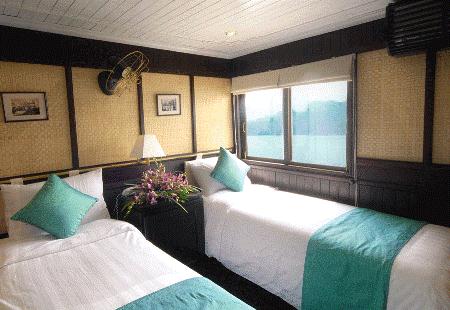 17.00 Swim or kayak at Ho Dong Tien anchorage (weather permitting)

19.00 Feast as a luxury dinner is served

21.00 Relax at leisure
Overnight aboard Bhaya

Day 2:

06.15 Practise Tai Chi on the Sundeck

07.00 Start your day with an International Buffet Breakfast

08.30 Continue cruising in Halong Bay

10.00 Disembark Bhaya, Transfer back to Hanoi

NET TOUR COST PER PERSON: US$413 for single cabin (for 01 pax) and US$221 for twin sharing cabin (for 02 pax)

Inclusions:

Transportation from Halong Plaza - Halong – Hanoi by shuttle bus

Welcome cocktail, meals onboard

Entrance and sightseeing fees

Air-conditioned en-suite cabin

Tax and service charges

Insurance onboard

Exclusions:

All airfares, hotels

Visa arrangement

Kayak and spa services

Beverages

All service non-clearly mentioned in the inclusions list


----------------------------------------



TOUR 3: EMERAUDE CRUISE/ 2 DAYS 1 NIGHT

DAY 1 HALONG ARRIVAL - OVERNIGHT CRUISE (LUNCH/ DINNER)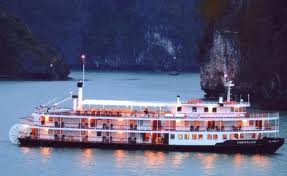 12:30 - 13:00 Registration, safety briefing at Emeraude Cafe

13:00- 13:15 Embarkation

13:15 - 13:30 Check-in

13:30 - 13:45 Captain raises anchor

13:45 - 14:30 Cruising Halong Bay
14:30 - 15.00 Free & easy

15:00 - 16:30 Guided shore excursion to Song Sot Grotto

16:30 - 17:30 Cruising Halong Bay

15:30 - 16:00 Crepe Station on Sundeck

16:00 - 17:00 Guided tour of Pearl Farm, swims or kayaks*

17:00 - 17:45 Cruising Halong Bay

18:00 - 18:30 Vietnamese Fresh Spring Roll Cooking Class

18:30 - 19:00 Cocktails on the Sundeck (Chargeable)

19:00 - 21:00 Vietnamese & European dinner buffet server

21:00-22:00 Bills settlement (Optional)

20:30-23:00 Squid Fishing (Seasonal)

20:30 - 23:00 Screening of highly acclaimed classic "Indochine"



DAY 2: HALONG - HANOI (Breakfast)

06:00 - 07:00 Complimentary cafe gourmand served on the Sundeck

06:30 - 07:00 Learn ancient art of Tai Chi on Sundeck

07:00 - 08:00 Leave luggage/bags outside cabins

07:00 - 09:30 Cruising Halong Bay.

07:00 - 08:30 Energizing breakfast served

08:30 - 09:00 Check-out

09:30 - 10:00 Disembarkation

10:00 - 10:15 Drop off point: Emeraude Café


NET TOUR COST PER PERSON: US$289 for single cabin (for 01 pax) and US$ 206 for twin cabin sharing (for 02 pax)

Inclusions:

Transportation from Halong Plaza - Halong – Hanoi by shuttle bus

Welcome cocktail, meals onboard

Entrance and sightseeing fees

Air-conditioned en-suite cabin

Tax and service charges

Insurance onboard

Exclusions:

All airfares, hotels

Visa arrangement

Kayak and spa services

Beverages

All service non-clearly mentioned in the inclusions list